The just fit function to your wrist


Wear the gloves...
SAKURAMEN Gloves does not slip off. It's with a just fit function.


Pull the wrist
part several times.
Before you use, pull the wrist part Gloves are just fit to your hands.
Work efficiency rises markedly.


The gloves fit to your hands firmly.

It is easy to take off the gloves. You can reverse it from the wrist side. It easily comes off.

Top page
Specification of Polyethylene SAKURAMEN Gloves
Rank
Deluxe
Standard
Economy
Super strong
EMBOSS
POLY
STRONG-A
POLY
Thickness
35 micron
30 micron
18 micron
60 micron
Color
pink/White/Blue
Transparent/Blue
Milk-white
Transparent
Workability
Durability
Feature
Embossed finish Non-slip Available for Elbow-long gloves
Enough thickness For hard work
Thin & durable Available for Elbow-long gloves
For more hard work
Package
100pcs/box
100pcs/pack
100pcs/box
100pcs/pack
200pcs/box
200pcs/pack
50pcs/box
All SAKURAMEN Gloves can be used in Food applications.

Top page
Gloves sizes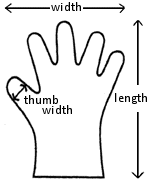 | | | | | | | |
| --- | --- | --- | --- | --- | --- | --- |
| | S | M | L | LONG M | LONG L | Elbow-long gloves with elastic band |
| T/Width(cm) | 22 | 24 | 26 | 24 | 26 | 24 |
| T/length(about) (cm) | 29 | 29 | 29 | 38 | 38 | 60 |
| Thumb width (cm) | 3.5 | 4.0 | 4.4 | − | − | − |

Top page